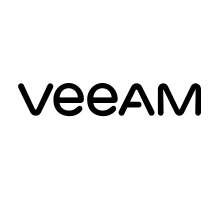 Veeam® Backup & Replication™ V11
Description:
Is a reliable 4in1 solution for backups, replicas, storage snapshots and CDP replicas. Achieve faster, more flexible recovery and retention options, secure ransomware protection and unprecedented resiliency for any size business.
Industryleading backup & restore
Fast, applicationaware, imagebased backups for VMware, NAS, Windows and more!
Native backup and recovery for AWS and Azure
Bulletproof ransomware protection with immutable backups functionality
Over 20x lower cost for long-term retention with archive-to-cloud storage option
Replication and DR
Get sub-minute RPO and fail over to the latest state instantly with Veeam CDP
Immediate recovery and production data access for VMs, entire NAS shares and SQL/Oracle databases with Instant Recovery®
1-click site recovery and DR testing with Veeam Disaster Recovery Orchestrator
Monitoring and analytics
Unified monitoring and reporting across onpremises, cloud and remote agents
Builtin intelligence to identify and help resolve common misconfigurations and backup problems
Effective capacity planning and forecasting to keep your IT needs in check
About Veeam